I'm quite sure that somewhere in our bathroom is an ESPN magazine with a cover that says something like "Nobody's Perfect but Everyone is Trying".  That thought came to mind this weekend when I heard a news report about Christmas.  Apparently, a study of the major networks revealed that of the over 500 holiday stories mentioning Christmas, less than 2 percent also mentioned God or Jesus.  REALLY?!?  So then what are these stories about?  Christmas shopping, the economy and finding the perfect gift.
Oh, I understand the perfect gift angle.  I mean, haven't we all loved someone so much we just wanted to give them the most incredible, wonderful present in the world?  That's how God felt about each of us when He gave us the perfect gift that very first Christmas….Jesus!  And while the story of the first Christmas may be no newsflash to Christians, it is the best news there is…so why not share it in every "Christmas" story?
I think, to date, one of my most popular designs at The Digi Chick is All is Calm…an element set commemorating the first Christmas.  I created a remix of that set this month,  All is Bright, in brighter, happier and with some playful elements thrown in…and why not?!?   It's such a happy story!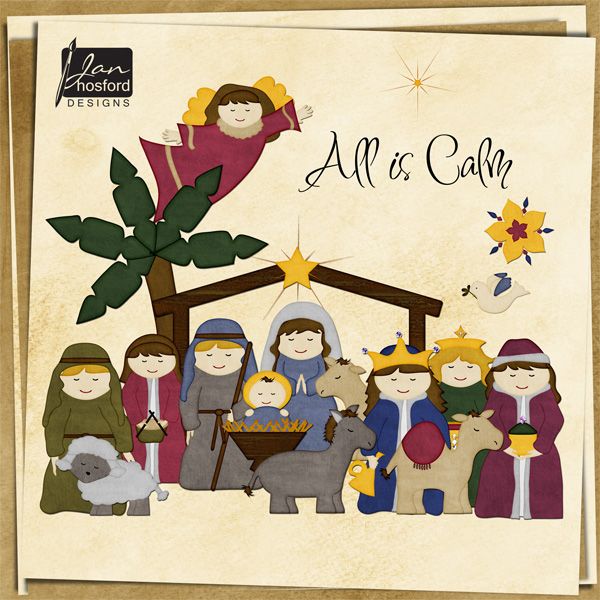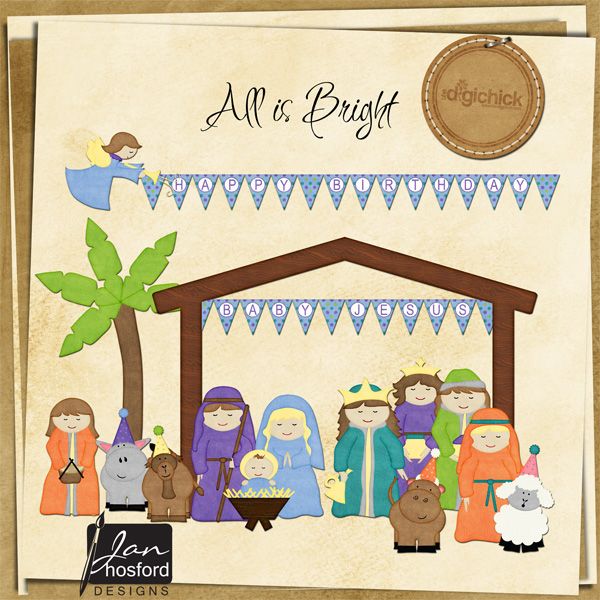 Anytime I see a nativity scene, my mind eventually wanders to perhaps the funniest dream I ever had…I dreamed Mary and Joseph were on the Oprah Winfrey Show.  I don't remember the full dialogue, though it was hilarious, but I do remember Oprah, shocked that Mary, visibly VERY pregnant, was denied a room.  And I remember Mary saying, "yes, they could definitely tell I was pregnant but they insisted there was no room" to which Oprah, in her best Dr. Phil voice, asked, "and how did that make you feel?"  I sure wish I could remember all of that interview!
Here's a quick update on our floor project – floors in living room and master bedroom are officially finished!  Our house iss still in complee chaos while my craft / therapy room and son's room are getting a face lift!